Francine Iragi is a PhD student in Development Studies at IOB, University of Antwerp and assistant at the Faculty of Economics at UCB. In 2015 she started her doctoral research project on the linkages between artisanal mining and agriculture. An outline of her research project (English/Français) can be found below.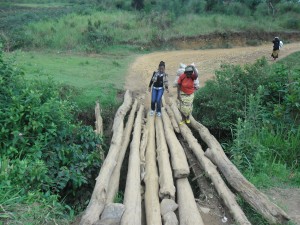 Artisanal mining does not only constitute a livelihood for millions of miners around the world, but also for many more people who work in and around the mines, albeit not in extraction[1]. This is the case of farmers for whom mining sites constitute an important market where they can sell their product at a higher price[2]. Also, a whole range of people are providing all kinds of services such as bars and restaurants, cinemas, sewers, carpenters, food shops, and so on.
From a policy perspective, artisanal mining has for a long time been seen as a 'dangerous', 'chaotic', 'criminal' and 'illegal' activity. That is why many policymakers want it to disappear or at least "formalize" it. Also in DR Congo, policymakers give preference to large scale mining (LSM) which can more easily be taxed, generating government revenue. As a result, artisanal miners have been made to leave several sites in DR Congo, and other sites will follow[3]. Different studies have tried to assess the impact of this shifting from artisanal mining to industrial mining (Banchirigah, 2006; Bush, 2009; Geenen and Claessens, 2012; Geenen and Iragi, 2014)[4]. In doing so, they mostly focus on the faith of artisanal miners themselves, and largely ignore the related range of activities, particularly agricultural activities.
My research will partially fill this gap. I will study the existing linkages between the artisanal mining sector and the agricultural sector, allowing insight into the potential impact of changes in the mining sector on agriculture-based livelihoods. The following questions will be analyzed:
What role does artisanal mining play for agriculture-based livelihood?
How do the various reforms in DRC's mining sector affect farmers' livelihoods?
In what way does/can/should DRC's mining policy take these effect into account?
---
L'exploitation minière artisanale constitue un moyen de subsistance pour des millions des mineurs dans le monde et pour plusieurs autres personnes qui travaillent dans – et autour – des sites miniers. C'est par exemple le cas des agriculteurs pour qui les sites miniers constituent un marché important où ils peuvent vendre leurs productions à un prix élevé. Aussi, différents autres services comme les bars, restaurants, cinémas, etc. sont offerts dans des sites miniers et constituent une source importante de revenu pour les pourvoyeurs.
Cependant, dans une perspective politique, l'exploitation minière artisanale est considérée comme « dangereuse », « chaotique », « criminelle » et « illégale » ; c'est pourquoi certains décideurs politiques pensent qu'elle doit être découragée ou du moins formalisée. Aussi, en République Démocratique du Congo, les décideurs politiques privilégient l'exploitation minière industrielle qui offre plus de facilités de taxation et génère plus de revenu pour l'Etat. Comme conséquences, beaucoup de mineurs artisanaux sont obligés de céder la place aux entreprises industrielles, abandonnant ainsi leur principale source de revenu.
Différentes études ont tenté d'évaluer l'impact de ce passage de l'exploitation minière artisanale à l'exploitation minière industrielle (Banchirigah, 2006; Bush, 2009; Geenen et Claessens, 2012; Geenen et Iragi, 2014). Toutefois, ces études se sont concentrées principalement sur les exploitants artisanaux et ont largement ignorées ces autres activités connexes, particulièrement, l'agriculture.
Cette recherche doctorale va partiellement couvrir cette lacune en étudiant les liens existants entre l'exploitation minière artisanale et l'agriculture. Elle essayera aussi de faire un aperçu des potentiels impacts des différents changements dans le secteur minier sur le moyen de subsistance basés sur l'agriculture. Elle va ainsi répondre aux questions suivantes :
Quel rôle l'exploitation minière artisanal joue-t-elle pour le moyen de subsistance basé sur l'agriculture?
Comment les différentes mesures de réforme de l'exploitation minière artisanale affectent-elles les moyens de subsistance des agriculteurs ?
De quelle manière la politique minière de la RDC doit/pourra-t-elle prendre en considération ces effets?
[1] Hilson, G. (2009) "Small-scale mining, poverty and economic development in sub-Saharan Africa: An overview", Resources Policy, 34 (2009)
[2] Maconachie, R. and Binns, T. (2007) "'Farming miners' or 'mining farmers': diamond mining and rural development in post-conflict Sierra Leone", Journal of Rural Studies, 23: 367-380.
[3] Geenen, S. and Iragi Mukotanyi, F. (2014) "'Les grands poissons mangent les petits' : multiples aspects d'un conflit autour d'une concession minière au Sud-Kivu", Politique Africaine, 131 (3) : 121-141
[4] Banchirigah, S., M. (2006) "How have reforms fuelled the expansion of artisanal mining? Evidence from sub-Saharan Africa", Resources Policy, 31 (2006): 165-171
Bush, R. (2009) " 'Soon there will be no-one left to take the corpses to the morgue': Accumulation and abjection in Ghana's mining communities", Resources Policy, 34 (2009): 57-63
Geenen, S. and Claessens, K. (2012) "De l'autre côté de la colline. Le contrôle contesté de Mukungwe, Sud-Kivu, in: Reyntjens, F., Vandeginste, S. and Verpoorten, M. (eds.) L'Afrique des Grands Lacs. Annuaire 2011-2012, Paris, L'Harmattan, 181-203