CEGEMI study on households in South Kivus mining sites
Between July and September 2016 a CEGEMI team, in collaboration with and funded by GIZ (Gesellschaft für Internationale Zusammenarbeit) surveyed 1,672 households living in and around eight mining sites in South Kivu province. The report of the baseline study has been published by GIZ and is now available here: Kamundala et Ndungu GIZ 2017_Etude de base sur la situation socio-économique des ménages vivant dans et autour des sites miniers du Sud Kivu.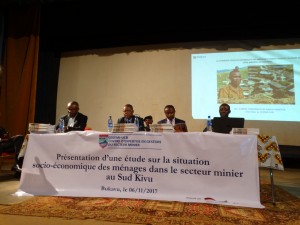 On the 6th of November, CEGEMI and GIZ organized a public seminar during which the study was presented to all relevant stakeholders, including provincial authorities. The report is available here: Rapport séminaire de présentation de l'étude sur la situation socio-économique.